Forging partnerships which bring real value to our clients has always been at the heart of the Cutter & Co philosophy. From its origins in 1981 when David Cutter first set up the business, forward thinking and friendliness have been our watchwords.
And we use the word 'forging' advisedly, because it has a relevance as Cutter and Co celebrates its 40th anniversary.
After years working as an internal accountant at William Embley Ltd, where a different kind of forging was part of the process, David's services were no longer required when the company was sold to Glynwed.  Money from this parting, together a handful of friends needing help with their accounts, proved the catalyst for David to start his own firm, David Cutter and Co.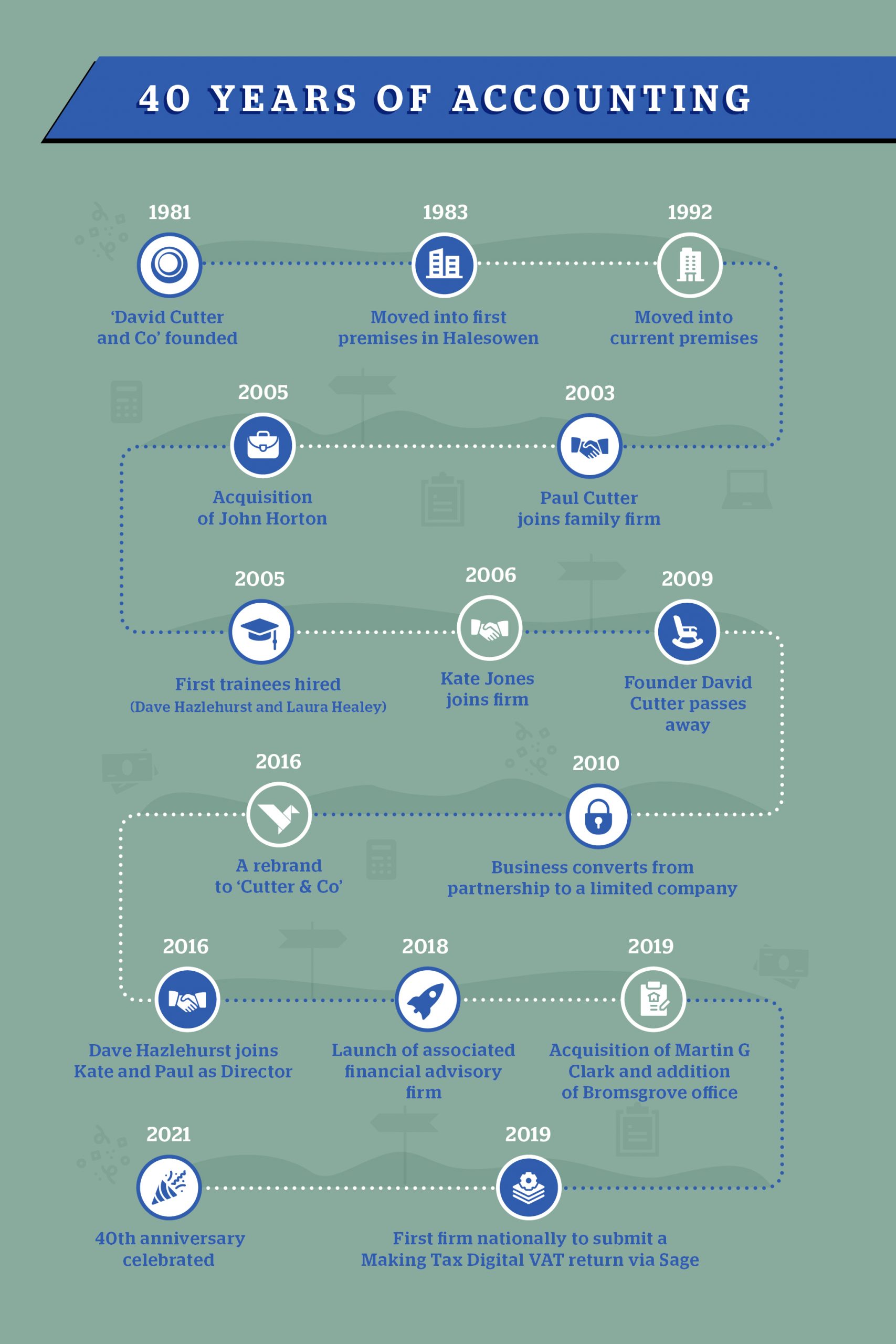 Humble beginnings
After spending £2,000 on an Olivetti computer (the price tags and the computers were bigger back then!), David was underway, working from his back bedroom. From the outset, the ethos was clear – a new breed of accountant free from the stuffiness with which so many firms were shackled. The approach quickly bore fruit. After selling William Embley Ltd, David's old employer, Rod Embley, went on to invest in property and asked David to look after his accounts.
More followed as David took on Truscanian Foundries Limited, another client in the metal fabrication industry, who would remain clients until the directors of that business retired in 2014.
As David continued to develop an approachable and responsive ethos, referral and word of mouth meant the business grew, moving into modest offices in Halesowen in the early 1980s. In 1991, with further clients and more staff on board, David Cutter and Co had outgrown their offices and moved to bigger premises in Halesowen Town Centre, which they still occupy today.
A new era
When David's son Paul joined the firm three years into the new Millennium, it heralded the start of a new era as a real family business. In 2005 the firm acquired another practice from John Horton, a retiring sole practitioner based in Quinton, whilst also taking on its first professional trainees – Dave Hazlehurst and Laura Healey, who are both still with the company today. They are proof that the firm's ongoing determination to encourage new talent works for the business and its clients.  The firm is now never without at least one professional trainee.
Kate Jones joined the firm in 2006 and was promoted to Partner in 2009, at which time David Cutter took the decision to commence his phased retirement.  Sadly, David unexpectedly passed away soon after in December 2009, aged only 61, but he left a strong firm in capable hands which would continue forward bearing not only his family name but the ethos on which he had founded it.
Following conversion of the partnership firm into a limited company in 2010, Dave Hazlehurst was later promoted to Director alongside Kate and Paul in 2016. At that point the company also took a milestone decision to abbreviate the trading name to Cutter & Co and undertake a general rebrand.
Cutter & Co acquired Bromsgrove-based Martin G Clark & Co in 2019, meaning that for the first time the business now traded from two offices.  This created greater geographical spread, but in the modern digital era the firm works with several clients based both nationally and internationally.
Ever keen to stay at the forefront of technological advancements, Cutter & Co seized the opportunity to take part in the pilot scheme of Making Tax Digital for VAT.  The firm worked alongside Sage and HM Revenue & Customs to become the first nationally to submit a VAT return using Sage Business Cloud Accounting software. Although long-established, the firm prides itself on leading the way in the modern era, working with many different and innovative software providers.
The journey continues
The journey of our next 40 years begins now. As soon as restrictions allow, we look forward to being able to celebrate our special anniversary with staff and clients. Our clients often become friends.  They value not just the services we provide, but the fact that we do so with a personal touch, that we challenge as well as support, and that we go the extra mile. For example, on the completion of annual accounts, we always endeavour to spend time advising clients on how they might do things differently to improve their profitability in the future.
As we continue to grow, we will look to explore further acquisitions in the South West Birmingham area where we feel the opportunity is right for both parties.
Ours is a culture that has been nurtured and developed these past 40 years. For existing clients and for clients of the future, we will remain as true to our values of friendliness and forward thinking as when we began all that time ago.